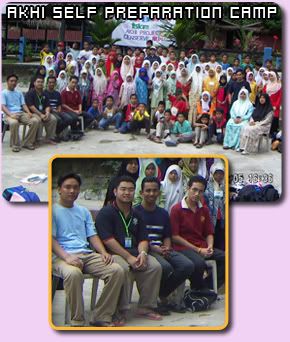 Last week, we have our 6th Mentoring program at KLCC Park, and this week, the most anticipated event for this short semester, AKHI Self Preparation Camp, held at Kem Sri Raudhah, Gombak from 19-21 May 2006.
Last time, I was the Program Coordinator (PC) and I have to make sure all the activities was according to the tentative. In this camp, I joined as a facilitator for 11 kids. Thanks to Fitrah, Dina, Buck and Sazlie for assisting me with my group. I think I'm not a good facilitator but I hope I can perform better for the next time. Its fun and interesting when we have a close relationship with the kids and they also put their trust in me.
I admit that this camp is really exhausting me. I used to overslept and yet, I managed to come to LDK (Group Activity) on time. It also had drained my energy where we have to walk for hours during the 'night walk' and jungle trekking activities.
My personal point of view about AKHI Project; eventhough we have won 'Best Club' of Deputy Rector Award 2005 (if I'm not mistaken), as a member itself, we should work more and run this organization systematically. I love working with this family and hope to maintain our position as the best club/society in IIUM.