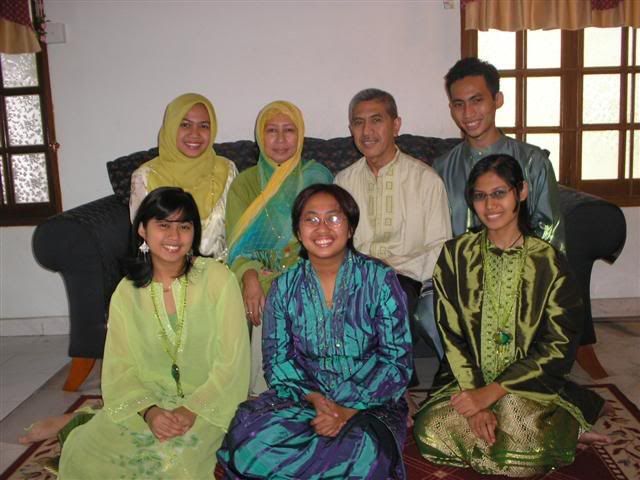 Selamat Hari Raya Aidilfitri. Its the
shortest
raya celebration at my kampong because my family only spend 2 days 1 night in Ipoh, Perak. The reason is that, my sister in UiTM and my younger sis gonna have exam and SPM. How bout me? I only have projects to be submitted and final presentation aight?
So, here's some short notes of my raya celebration this year..
Its my first time ever, where my baju raya is quite expensive. I don't wanna tell you about the price but what I like about it is that.. the dual tone with specular highlight. As you can seen on the picture, on my arm.. quite cool huh?
Early in the morning, my elder sisters, parents and I went for Solat Sunat EidFitr at Masjid Wilayah Persekutuan Jalan Duta. I sat on the second row in the air-conditioned prayer hall. Lots of muslimin from all over the world also came to pray there such as Indonesian, Bangladeshi (haha.. they are foreign workers of course!) and some Iranians. We also met Jalaludin Hassan there.
We were home and unfortunately on this lovely day, there's water shortage! So my mum couldn't cook nasi himpit and do the washing afterwards. So, we only have Toast'em bread together with rendang. Hmm.. my mum still looking for the 'rendang tok' recipe..
After the forgiving session with my family members, we departed at 1215pm and arrive my grandfather's house at 330pm. I took the wheel from Tanjung Malim and keep driving along the Route 1. Its not highway and that's why I took longer time to arrive. By the way, we can save from the toll. But its good because both highways and federal roads doesnt have any congestion! Its first day of raya.. what are there to expect?
Hmm.. We visited some of our relatives houses.. Nothing to share here. I love my cousins and relatives! As we getting older and having bigger family and commitments, its hard to gather every members of my relatives in one place at one time. So, if only I could turn back time where every one was there and chatting live life happily!
The interesting part is on the way back to KL. We departed around 845pm on second day of raya. After 2 hours of driving, my sister whose driving another car told that she's running out of petrol and the next RnR doesnt have petrol station. Besides that, the crawling along the highway also is not a good news. From my understanding, if the petrol icon started to blink, or the petrol indicator is showing 'E', it means EXTRA. Older cars means EMPTY. So, for this extra, it should last around 50 kilometers. So, fortunately, we manage to arrive Petronas after exit in Rawang. So the lesson here is.. always check your vehicle before a long journey.
I remembered the Toyota Raya advertisement.. Minyak? OK! Angin? OK! Air? OK!