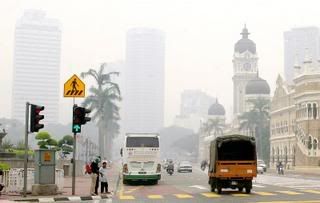 BAD: The hazy condition surrounding Jalan Raja Laut, taken at 3pm by NST pixman Amiruddin Sahib. Check out this article from News Straits Times – A to Z on the haze
The haze situation in KL is getting worse. Me myself and all other students here in IIUM might not know what's really happening out there, I mean in KL. But, since its very obvious in my campus, even I can't see the mountain from my college. Its kinda surprising. I checked out online newspaper and damn! See, what's happen with this situation.
Some schools in KL and Selangor had to be closed for a while. But, IIUM is still running like there was nothing happen. I wonder if they can declare emergency and my assignments can be postponed too! Hehe..
I also having the risk with my respiratory system because I ride a bicycle to classes and its kinda dangerous for me to inhale those little particles of invisible gasses.
P/S – still looking for a mask.. with cool design eh?