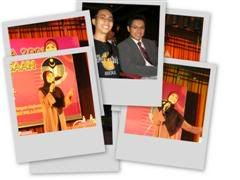 I went to Dewan Bahasa & Pustaka to watch the final of Kuiz Sastera Perdana with my friend, Faiz. What's the catch is that my friend wanna meet Waheeda, she'll do the singing while Ally Iskandar hosting the quiz.
Well, mainly the quiz is all about the literature in Malay. Guess, Faiz & I is the only outsider other than school students. In the final, the representatives comes from Johor, Kedah, Negri Sembilan & Terengganu.
The standing is:-
1. SHAMS, Negeri Sembilan
2. SM Sains K. Terengganu, Terengganu
3. Sek. Sik, Kedah
But the result is quite surprising because in the final round, based on who press the buzzer earliest got the chance to answer, representatives from Kedah who manage to answer most question. I guess, they are lack of marks in the previous rounds.
My former school, SM Agama Kuala Lumpur represents for KL zone. My friend's brother was in the team too.
P/S- reminiscing old school memories.. still the best ever remains…