I've been driving on this road for three days in a row. Here's what I experienced.
On Tuesday, I supposed to send my sister to Technology Park Malaysia, Sg. Besi. Since the signboard is not legible enough, I've made my way till UPM Serdang before turning back. Its my first time driving in TPM. Don't be fooled by the signboard, it shows that TPM is on the right, but you should take left otherwise no turning back!
On Wednesday, I went for a bowling with my friend. I've waited at Serdang while we will play at Warta complex, Bangi. My friends are Roy, Sazlie and Amy. Thanx to Amy because she provided our lunch. We had our lunch at a recreational park in Bandar Baru Bangi. At Warta, there's 20 alley bowling centre. Surprisingly, there's also MBO cineplex, as in Galaxy Ampang. FYI, I played bowling annually, starting from 2003 until 2006. Its my fourth time actually and I'm not good at it. That day, in 4 set of games, I've scored 69,63,75 and 78 🙁
On Thursday, I went to KLIA to fetch my mom, who is returning from outstation in Kuala Terengganu.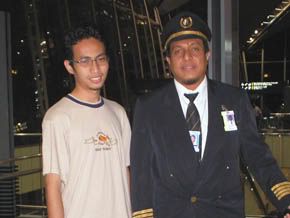 My picture with one of MAS pilot. I'm thinking about J-Drama 'Good Luck' when I was at KLIA. There's McDonalds outlet at KLIA and for your surprises, it costs double than other McD outside KLIA.
On the way back, I drove my mom's Waja and do some sprint test. I'm breaking my new personal record which is more than 130km/h at Nilai Highway. Yea, the track is straight and wide. But, I wonder, why that Waja feels shaky at 100km/h while my Kancil 850 still stable at the same speed?