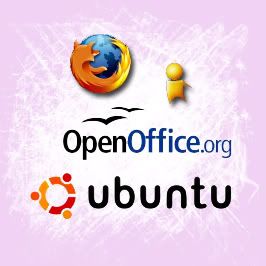 Yeah.. what is OpenSource? what is open sources softwares? Currently when people busy talking about Windows XP tatoo of pirated version OS, then what should we do to live this life to the fullest wisely and legally? Then, there's come the open source softwares which was design and generated by computer programmer and those who have passion to create FREE softwares especially the OS. Currently today big OS such as Windows and Apple is dominating the world but I bet, sooner or later, they will lose because the open sources revolution is about to begin.
Yea, I was exposed by my friend about this open sources softwares. I've changed to Mozilla Firefox instead of Internet Explorer for browsing the web. I've changed to GAIM instead of MSN and Yahoo! Messenger. I'm using OpenOffice.org instead of Microsoft Offices. But the important is that, open sources software are cool and better because it was designed to meet our demands and expectation. Besides, I'm looking forward to change my OS from Windows to Linux-based. I've tried Ubuntu Live CD and I can say its a bit like Mac but way cooler. I need someone to teach me all these stuff before I can move on changing my whole computer habit with the open sources softwares. Thanks to Jamloceng for his support!
What else? I wanted to use UIA library internet lab today but it was closed with a notice stating that "Due to the implementation of open sources software, we are closing the multimedia facility.." sounds like that.. and I wonder what are they gonna do with the computers..
Here's links to some famous open sources website where you can easily download, use and spread to others!
Mozilla Firefox – Free Web Browser
OpenOffice.Org – Multilingual Office suite
GAIM – Multi-protocol instant messaging (IM) client
Ubuntu – Linux based Operating System