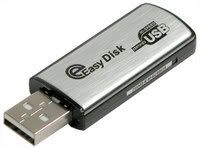 What is a portable storage? In this context, I wanna discuss about the technology of portable storage device such as thumbdrive or pendrive.
As far as I concern, my sister is the earliest in my family to use pendrive. At that time, 128MB Pendrive cost around RM120. But up to this day, 128MB just cost around RM30. This stuff is getting cheaper due to the demand of the market.
How about my pendrive? I admit that pendrive helps me alot when doing assignments because of its efficiency besides large capacity of storage. Nevertheless, among the major problems with the pendrives are the epidemic of viruses and worms such as Brontok and R.Jump (autoplay worm).
Here's my past history of my beloved pendrives.
1. 128MB Pendrive – inherit my sister's old pendrive. I've change for a larger capacity
2. 256MB Samsung – my mum's pendrive. I've lost it on my way back to college on rainy day.
3. 1Gig Easy Disk – I bought at Low Yat at RM80. I've lost it when working on my documentary project.
Right now, I've reverse the technology and currently I'm using 3.5″ floppy disk. Its killing me deep inside because some computers cannot read the disket and ask me to format it. Even some of my friends PC don't have floppy disk slot.
Now what, should I get myself a new portable harddisk of 40Gig or just 128MB pendrive?