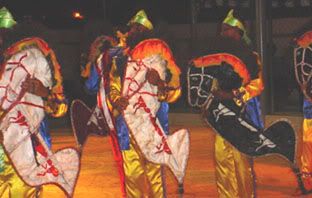 My first studio project for this semester. Students need to produce a short documentary about traditional arts & craft in Malaysia with the duration ranging from 15-20 minutes. I'm in the same group with Izzaidah, Illyna and Hisham. We are working on the arts of Kuda Kepang, the popular dance in Johor. We planned to go to Batu Pahat this coming Friday 28th July.
What am I thinking about this project? It seems that I have my own advantage because I'm used to multimedia stuff from flash to video editing. I hope I can get good grade this semester. Why our lecturers expose us to this kind of things? As Bro. Muhammad said, applied arts and design can go into many field not just conservation, interior design or industrial design.
As in previous multi-dip experience, AAD students is the one who need to design the presentation layout as well as the final multimedia presentation. I hope in this project, my friends can get some exposure in doing multimedia stuff. I'm thinking of letting my studiomate to produce the multimedia presentation for the next portfolio day..