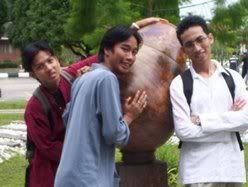 Its the first study visit from my department in this semester. We went to 2 places and they planned this trip because they wanna give us some exposure on ceramic industry in Malaysia. Our second project is regarding to ceramic and conservation.
First, we went to National Craft Institute in Rawang. Its a vocational institute that provide Certificates and Diploma level for students who keen in local arts and craft such as batik, textile weaving, rattan/bamboo, woodcarving, ceramic and fine metal crafts. These students are very friendly and most of them was just around my age. I've taken some shots of students' projects and even, I've tried myself weaving fabric together with pineapple's fibre.
In the afternoon, we went for Jumaah's prayer and we had our lunch at Medan Selera MPS in Selayang.
Our second venue is White Horse Ceramic Showroom in Bandar Baru Selayang. Its the largest tiles showroom in Malaysia. I think it's a good place if you wanna redecorate your house especially in the kitchen or bathroom, because they have built the real cubicle of some room together with the color scheme of the tiles.
The good news comes later when my lecturer told us that our Monday Studio will be postponed and students can enjoy a long weekend and Eid Adha break.