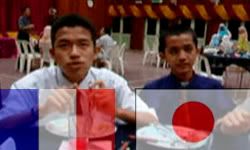 Two of my friends from my former school is studying abroad right now. After two years of preparation with the languages. The picture was taken during our final grand dinner in SM Teknik KL.
As in the picture, Amiruddin Hamidon on the left was in Malaysia France Institute (MFI) doing twinning program of 'Electrical and Computer Sciences'. He's studying in Nice, France.
The other one on the right is Naim Othman. He got scholarship from JPA and he already in Japan doing 'Electrical Engineering'.
I'm not regret than I was not selected for JPA because it was my fault. I didn't prepare for the 'open interview'. But, in UIA, I believed that I had improve my communication skills and got to know some foreigners too.