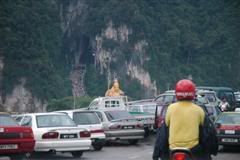 Here's the picture of what happen on the MRR2 near Batu Caves area. Thaipusam is the annual Hindus devotees celebration and every year, there will be a massive traffic jam at the highway. Why? From the picture, you can see that there are many cars parked on the roadside, the MRR2 bridge itself. I stuck for nearly 20 minutes as I was heading to UIAM. The same issue was about the crack on the MRR2 bridges and some part of it was closed due to restoration(?). Besides, I'm kinda impressed to Sammy Vellu, Minister of Public Works, where he has announced his mobile number to the public. He's so bold. I read also that he's the only minister that loves to SMS, like the way we do.
Sammy Vellu 019-216 5555
On Saturday, I assisted catering committee for the AKHI Third Mentoring Program to buy 120 mineral bottles from Giant Hypermarket and I was treated with McDonalds. On Saturday night, I went to Setapak for jamming at
Double Neck Studio
with my roommates, the one that listens to rock and metal songs. Just playing bass and follow the desirable tunes.
On Sunday, another outing to IKEA at IKANO Power Centre with my friend, Fikri, Reduan and Hakim. Its my first time to The Curves but this time my lecturer wanted us to pay a visit to IKEA to study or understand the theory and technique of compact and integrated living. Its just a gasp of idea for my final project Cubic Dwelling where I need to design an interior of a cubic space within 6m x 6m x 6m. Parking rate at IKEA is kinda cheap where for the first 3 hours, you only have to pay RM1 and another consecutive hours will be charged RM0.50.
P/S- I think the next time I'm gonna having fun like this is during the semester break. Huhu..