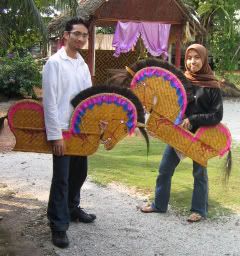 Kuda kepang is famous in Johore especially in Batu Pahat. Since my group have chosen this topic, we need to go to the 'crime scene' to investigate the real case.
On Friday night, 9pm, we departed from UIA to Putra LRT. We take Komuter at KL Sentral to get to Port Klang because Hisham red Kancil was there. We took our dinner before we start our journey at 1am. Its already Saturday. Hisham take the wheel while I'm assisting him to read the signboards and look for direction. Its hard to resist sleepiness in the middle of the night but I have to because I need to respect the driver. I also hate it when I'm driving while my passengers' sleeping.
We entered the highway from Nilai and we take the exit at Tangkak. From there, we look for Muar, Batu Pahat and I pay more attention for Semerah and Sungai Nibong. That's where our 'suspect' live. Around 5am, we take a nap at Crocodile's Nest Mosque a.k.a Masjid Sarang Buaya. Just a quick nap before the Subuh prayer.
We have our breakfast at food court near Pasar Awam Semerah. We finally arrived at Mr. Naim Marjani's residents. He's among the craftsmen of kuda kepang. We conduct an interview with him. But the funny part is, during the interview, we are very sleepy. Its not that we were boring listening to his story, but unfortunately we don't have enough sleep the night before. We decided to leave his house to sleep at the former mosque. We told him that we have some items left.. what an excuse!
Around 1pm we went to his house and they prepared lunch for us. Actually, on the same day, Library of Batu Pahat was having a edu-visit to Wak Naim house to watch the kuda kepang performance. That's why we choose that day for our research because I need some visual as well as videos for our documentary project. The event started at 3pm and ended around 5.30pm.
Some interesting facts.
During kuda kepang performance, some of the dancers will be possessed by a kuda kepang spirit and when they are unconscious, they will act strangely. That's very terrifying but its true!
We also had an opportunity to learn some of the basic dance step in kuda kepang dance. Its very easy but carrying the leather made horse puppet is giving me some ache!
Our journey home… We went to Batu Pahat city and take the highway from Yong Peng. We had our dinner at highway lay by, RnR Pagoh and we also had some durians! I take the wheel from there and finally, we arrived at UIA around 1.30am.
Its a whole day full of excitement despite our lack of sleep and of course its very tiring. I've got a lot of information about kuda kepang and let's see how can I reveal the mystic and mysteries in my documentary later.
P/S – its my first time been in Johore!